The Official Newsletter of
THIS ISSUE
---
Eco Sci-Fi Trucks
---
An Engine Win-Win!
---
Transflo & One Cool Cat
---
Spring Back Into Action!
Trucking Transitions Into an Eco-Friendly Industry with a Sci-Fi Twist
By Matthew Meeks
"Live Long and Prosper"
Transflo fully supports an eco-friendly industry on Earth Day AND every day of the year…
With our continued dedication to sdvancing technology, helping trucking professionals stay compliant, and keeping routes efficient, we hope to create a safer industry with a lighter carbon footprint.
We've taken strides to make transportation professional's jobs more efficient with in-cab scanning PLUS truck-friendly shorter routes that get drivers to destinations quicker – while also lowering carbon emissions…
But these are just small strides compared to some major eco projects taking place by big names in the industry such as Tesla, Nikola, MIT and Volvo.
There has been buzz around the Tesla Semi ever since they announced they'd be manufacturing one back in 2016. And just in recent weeks it's been spotted out delivering models of their cars to customers.
Tesla Semi delivering cars to customers: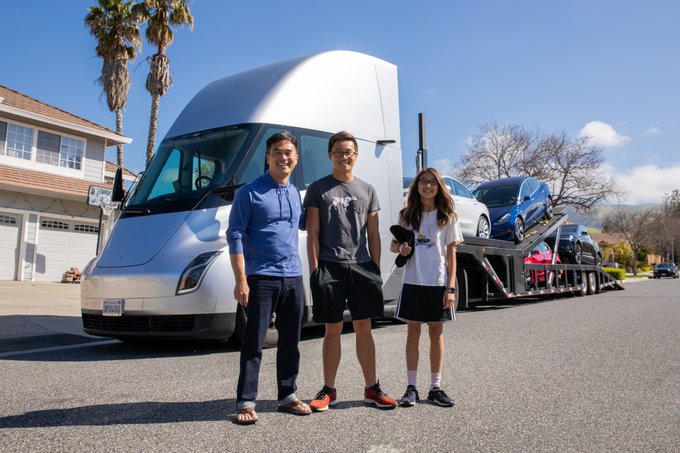 The Tesla Semi uses four electric motors (the same used in their Tesla model 3). CEO Elon Musk has made multiple claims about the electric truck including: fleets could save $.20 per mile, experience simplified maintenance versus diesel, and (of course) zero emissions…
What You Should Know about Truck Engines, Telematics, and Remote Diagnostics

The Future is Now
There was a time when headlines about heavy-duty diesel engines revolved around horsepower and torque curves.
But today engines deliver much more than power. Electronic controls and telematics can tell truck drivers, maintenance managers, and fleet owners about the performance of their equipment in real time – anywhere there's a network connection.
Nearly every major Original Equipment (OE) engine has introduced new or updated connected services recently, and providers of aftermarket telematics devices offer features that streamline the collection and communication of engine data.
As you evaluate telematics devices for diagnostics and predictive maintenance, here are a few things to consider…
Transflo is COMING SOON
to your tablet…
For more info contact your rep today.
813-386-6000
Transflo Adopts One Cool Cat
Featuring: Eric Clark from Blue Cat Carriers, LLC
"Outstanding"
Blue Cat Carriers LLC has been in the biz since 2010 operating just three trucks until a few months ago. Due to some recent business developments, Blue Cat has experienced some exciting rapid growth, and has increased their fleet from three to 18 trucks in a short six months…and they're taking Transflo along for the ride!
We recently chatted with Eric Clark (Operations Manager at Blue Cat) about using Transflo products, the company's recent growth and their plans for the future.
On Transflo Products…
Clark explained, "To me, Transflo is very user friendly and requires very little training for my drivers. I can show them how it works one time and they're good to go!"
On Transflo Account Executives…
Clark expressed his gratitude for his Transflo Account Executive, "Rey is outstanding! I call the guy any time of the day and he'll answer. He's been great to work with."
Rey Rosa mentioned, "It's a pleasure working with Eric. He is open to collaborating on solutions and he values the advice I have to offer."
On the Competition…
Clark shared that he was blown away by the number of companies offering him…
Winter was Rough on Your Truck – Spring Back into Action with Our 3 Tips
By Matthew Meeks
The transition from Winter to Spring is a crucial time for your truck/s. To help you protect your investment here are some quick maintenance tips for your rig. Sound good?
Here we go…
1. Put a Halt to Salt
Start by just giving that under carriage a rinse and wash. Salt is a killer and you don't need any lingering salt from the winter roads corroding your ride. After the rinse, use attention to detail to check for any rust or corrosion (and get yourself a good rust inhibitor if needed). Make sure to check electrical cords for signs of corrosion too.
The inside rusts too, use a wet-vac on the floor of your cab, not only will you get things squeaky clean again, but you'll also get out the salt and dirt that accumulates around your doors. This prevents salt corrosion and protects your investment. Cha-ching!
Noteworthy: Truck radiators are at high risk of corrosion after driving on salted roads. Discovering any issues and fixing them at home is WAY EASIER than dealing with it on the road.
2. Be on Rust Watch
…Or more specifically, rusted "dust shields" watch. Take a look at those shocks, shock mounts and yes, dust shields (which are particularly prone to rusting). The Department of Transportation (DOT) specifically looks for rusted trucks to inspect and WILL jump on the opportunity to ticket you. So, avoid…
What the IFTA?
REMINDER: IFTA filing is due April 30, 2019.
The International Fuel Tax Agreement (IFTA) requires quarterly reporting of mileage & fuel by all interstate motor carriers.
For more information on IFTA reporting including FAQs and Forms click here.
Quick Compliance
Affordable pricing with available inventory. Get a FMCSA-certified Transflo ELD with no up front hardware costs and a lifetime upgrades/warranty on ELD equipment. (An activation fee may apply depending on fleet size)Learn More
Transflo Mobile
Manage your whole workday – anywhere, anytime! Weigh station bypass, truck navigation with live traffic, E-Logs, loads, documents, & more.Watch Video
Newsroom
Transflo Completes Electronic Logging Device Registration with FMCSALearn More